---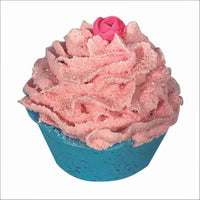 Please note: Due to the handmade nature of these bath bombs, appearance may slightly vary.
Directions: Separate bubble frosting from bath bomb base and hold frosting under running tub water to create a bubble bath. Then enter your water-filled bathtub, drop the bath bomb in the tub and enjoy your spa-like experience!
Madly In Love Cupcake Bath Bombs Wholesale
5oz = 2.25" Diameter  
INGREDIENTS: 
Sodium Bicarbonate, Decyl Glucoside, Coco Betaine, Potassium Bitartrate, Sodium Cocoyl Isethionate, Sodium Laurel Sulfoacetate, Phthalate-Free Fragrance, Zinc Oxide, FD&C colorants
*SLSA is a great natural alternative to Sodium Lauryl Sulfate. It is derived from coconut oil, and confirms to Ecocert's natural and organic cosmetic standard. Made with organic ingredients. Not an organic product.